The Whole House Approach by RC Mechanical Inc.
Today's homes are made up of a complex system of elements working together to keep their inhabitants healthy and comfortable. When one element is out of balance, many different problems can result. This can include:
Hot and cold spots, cold drafts, or wide temperature variations between floors
Too much humidity, which can encourage mold and damage to your home
Not enough humidity, affecting comfort as well as your respiratory system
Excessive dust, allergens, and unhealthy air that aggravates asthma
Carbon monoxide poisoning
Noisy or unreliable heating and cooling equipment, and excessive utility bills
HVAC Redwood City CA and residents in surrounding cities can depend on us to bring the systems in their home into balance is expertly provided by our team at R.C. Mechanical Inc. Having us install a new heating or cooling system will increase your comfort, protect your health, and provide you with a home you can enjoy living in. But just installing new equipment, even a high-efficiency system, won't solve every problem. When we install your new system, we don't just put in the same type of system you had before; we'll use state of the art technology to analyze all your home's systems, pinpoint areas for improvement, and determine the right system for your home. Your money, comfort and health are on the line. When it comes to providing a system that will produce optimal results for a home, R.C. Mechanical provides HVAC Redwood City CA and surrounding areas with exceptional quality installations that our customers have come to trust.
R.C. Mechanical uses the Whole House Approach to find problem areas in your home. Problems like faulty duct work, improperly sized or inefficient equipment, and poor insulation can contribute to problems with comfort and air quality. A Whole House Comfort Checkup will check these issues and more to ensure your new system will operate at peak performance. The Whole House Comfort Checkup includes multiple tests, including: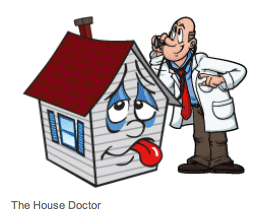 Blower Door Test
During this test, a vacuum creates a pressurized environment in your home, so leaks and air flow problems can be identified and isolated. We can determine how much outside air is entering your home, and where your conditioned air is leaking out. This test also detects problems with improper duct sizes and poor air circulation. Many heating and cooling problems can be traced to these causes.
Thermal Imaging
Hot spots in your home are diagnosed with thermal imaging devices. Thermal imaging locates poorly insulated areas in your walls or ceiling without damaging your wall surfaces.
Flow Hoods
A flow hood measures the volume of air from your air conditioning vents. This lets us determine whether your ducts are correctly sized and configured to effectively move conditioned air through your home and provide even cooling.
Call Today to Schedule Your Appointment with the House Doctor!
(650) 575-3915
Keeping your air healthy with the Whole House Approach
There are two types of air: Good Air and Bad Air.
Good Air comes from the OUTDOORS, through windows and doors.
Bad Air comes from the INDOORS, through the crawl space or the attic.
Our blower door test determines where the air coming into your home originates. This is a unique service not offered by most HVAC Redwood City CA providers. Thermal imaging evaluates your home's insulation to see if we can improve its effectiveness. We run tests to ensure that carbon monoxide is not coming into your house and we'll check for static pressure in your heating system to make sure it's not under negative pressure; that's like taking the blood pressure of a person.
If your home suffers from any of the symptoms we've described, or if you just want to ensure that you're getting the most out of your heating and cooling system, call R.C. Mechanical to schedule an appointment. We'll perform a complete evaluation of your home's systems, identify areas for improvement, and provide solutions to maximize your home's performance. With our help, you'll be able to:
Achieve even, comfortable temperatures throughout your home
Maintain healthy, comfortable humidity levels year-round
Reduce dust, system noise and repair bills
Save money on your utility bills (typically between 10% and 50%)
Call Today to Schedule Your Appointment with the House Doctor!
(650) 575-3915
Certified by the Building Performance Institute
Sal Contreras, owner of R.C. Mechanical, is certified by the Building Performance Institute (BPI). HVAC Redwood City CA and surrounding area residents can rely on Sal to personally supervise every installation performed by R.C. Mechanical. BPI uses tests devised by the American National Standards Institue (ANSI) to certify a high level of skill in the field of whole house systems. According to the BPI website:
    "BPI certified professionals are individuals who have proven their skills, meeting our stringent, nationally recognized standards by passing both written and field examinations… Using the house-as-a-system approach, they conduct comprehensive whole-home assessments that go beyond a traditional energy audit to establish performance levels and trace problems to the root cause. Then they prescribe and prioritize real solutions based on proven building science. At the end of each job, a second assessment confirms that the desired performance improvements have been achieved.
    The result is work that's done right – the first time. Energy efficiency is enhanced for the long-term, while occupant comfort, health and safety are not just protected, but often dramatically improved."
Our Service Area
R.C. Mechanical Inc. is based in Redwood City, CA. We offer service in Redwood City, Burlingame, San Mateo, Menlo Park, Woodside, Los Altos, Portal Valley, Mountain View, Palo Alto, San Carlos, Cupertino, and Santa Clara,  within 20 miles of Redwood City, from roughly the south bay to Burlingame. If you're unsure, please call us at 650.575-3915.